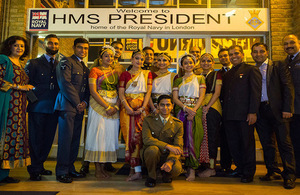 The Armed Forces Hindu Network celebrated Diwali on the HMS President with key figures from the Hindu community, Government and Ministry of Defence.
The Naval Reserve base HMS President was transformed into a celebration of light, and the event was marked with prayers, lighting of diyas and traditional dance performances.
Speaking at the event, the Armed Forces Hindu Network Champion, Rear Admiral Andrew McKay said "I am delighted to be involved with the Armed Forces Hindu Network as their senior champion, and to support this flourishing partnership between the Armed Forces and the Hindu community. Our message is that the Armed Forces includes people from all faiths and backgrounds, and all make a vital contribution to protecting the UK's security. As their champion, I am particularly  proud of the Hindu sailors, soldiers, airmen who defend our nation's interests at home and abroad, especially those in more recent conflicts and who are on military operations today, at sea, on the land or in the air – away from their families during this family festival."
Diwali also marks the celebration of Lord Ram's return with his wife Sita and brother Laxman to Ayodhya after a 14-year exile where he was welcomed with rows of candles. This story of the Ramayana which talks about Lord Rama's triumph emphasises the messages of courage, commitment, discipline, respect, integrity and loyalty – themes reflected by the UK Armed Forces core values.
Recalling his first experience of Diwali in the Royal Navy, Surgeon Lieutenant Commander Manish Tayal, Chair of the Armed Forces Hindu Network said: "During the first phase of training at BRNC Dartmouth, you're not allowed out of the College. Diwali fell during this period, and I'd never before been away from home on Diwali, so I asked I could visit my family for the day to celebrate with them.  I was (rightly) told no, I understood but was a bit upset about it, nothing more was said.
On Diwali day, we had our usual schedule of serials.  Returning from one of our sessions, I went into my cabin and found 24 trainees plus our 3 Assistant Divisional Officers in the cabin.  The cabin was draped in orange, rows of tea lights, along with onion bhajis, samosas, Bombay mix, and drinks, and Indian music playing from a laptop. The group shouted "Happy Diwali" and explained they'd noticed how upset I was about not being able to celebrate, so arranged a surprise Diwali party for me.  They'd looked on the internet and found that Diwali celebrations consisted of orange, lights, food and music/dance – our Assistant Divisional Officers bought the tea lights, food and drink from town, one of the group had lots of Indian music from a previous trip to India for a friend's wedding, and the orange was the plastic sheets we'd all been issued as part of our kit for training.  So I explained the story of Diwali and its message to the group, and we had a great party."